T's Bigwoods Missy...Terry Maniez owner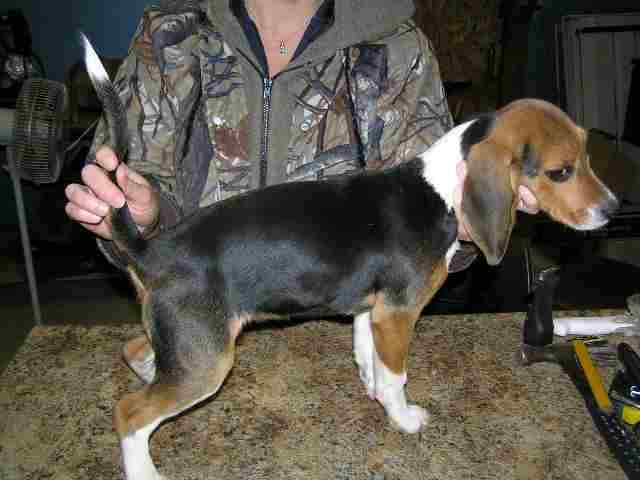 (RCh Beadle's Luke x GRCh Lone Pine Nellie)
My goal as a beagle owner and breeder is to maintain a line of dogs that suits my needs in the field. Notice I didn't mention trials. If you look back through time, beagle trialing evolves every few years. I prefer to breed beagles that I enjoy running and thus attend trials that suit my hounds. I would never change my hounds to suit the current trend in beagle trialing.
Basically I want hard hunters, good noses especially on cold dry snow, med. to med./fast foot speed with gears, brains, kennel manners, good quick check work, steady mouth on line, run the line, bark only when the rabbit can be run, with good personalities!
I like my beagles to be tri-colored with an athletic build and short, smooth coats. I also like the females to be 13" or just under and the males between 13-14" I prefer fast chop mouths or good steady squalls with their head down. I plan on sticking with the (Rambo) females by outcrossing and eventually linebreeding back to the best individuals from this line. After 7 generations I like what i've seen so far!

"Stay on track, with Progressive Pack".......A.Eichelberger